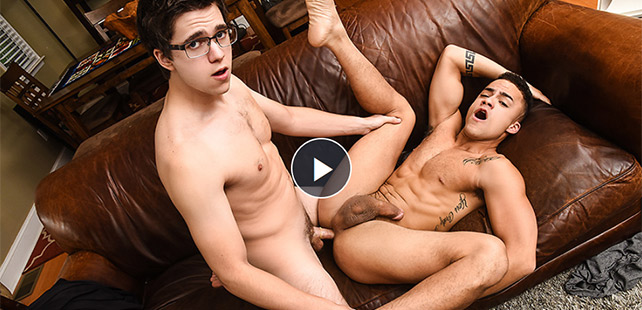 This hardcore movie, starring all exclusive stars to Men.com Will Braun and Beaux Banks, has been released by Drill My Hole and filmed by Men.com.
Will Braun and Beaux Banks have just graduated from college. They make a pact that if they still haven't lost their virginity in four years' time, they will have sex together. Four years on, desperate Beaux calls the athletic Will to see if he's the same, and yep, he still is, so they decide to claim the ass contract they have made years before.

The Hot Gay Men Porn Lovers
Beaux Banks keeps in shape by dancing when he isn't working. He has an athletic body; a handsome face and he has a couple of tasty tats. He his five feet six inches tall with black hair, seductive brown eyes, and he is a bottom with a six-and-a-half-inch cut cock.
Beaux has starred in sixteen movies for Men.com, and in his last movie, 'The Sting Part 1′, he gets his sweet rosebud ass drilled deep and hard by the sexy Conner Halstead.
Will Braun still looks like a college teen even after being with Men.com for three years. This is Will's 108th movie for them, and he hasn't aged a day. He has a smooth body, innocent blue eyes, and he is five feet six inches and has a beautiful, smooth body. He is versatile and has a seven-inch cut cock and a lovely set of balls.
The movie
Beaux Banks arrives at Will Braun's house, and as they sit on the couch, the atmosphere is full of electricity. The sexual tension is high, and they don't take long in getting down and dirty.
Will pulls his pants down and shows Beaux his virgin cock. It is rock-hard, and Beaux doesn't hesitate, lies on his front on the couch, and as he grabs hold of that piece of meat, he goes straight down on Will's cock. He sucks like he has been doing it all his life, and Will is heaven. He has never felt anything like it in his life. As his cock gets sucked, Will puts his hand down the back of Beaux' pants and rubs those hard ass cheeks.
Will sucks on Beaux' cock for a while, and he uses his hand at the base as he takes as much as he can in his greedy mouth.
Beaux lies down on his back, and Will lubes up a thick dildo. Beaux looks nervous as he spreads his legs and the dildo gets closer to that untouched hole. Will slides the head in first and watches as Beaux tightens up. He slides it in slowly, inch by beautiful inch and makes Beaux squirm on it.
They fuck in the doggy position and then get into the missionary as they go wild, lost with a feeling they have never known before. Lost in wonder and lust, they both moan and groan out loud as Will bangs his balls against that crammed hole with every thrust of his hips.
With a cry of abonnement, Will Braun's cum shoots out, and it looks thick and creamy as it covers Beaux Banks' abs.
Beaux's cock erupts seconds later, and his cum mixes in with Will's.
As they finish fucking, they both admit that they lost their virginity a while back, but they just fancied the fuck for old times' sake.
Wow, Will Braun and Beaux Banks really know how to get in on together. They make you believe they are virgins, and their dirty talk is a huge turn on. If you want to see any more fantasies such as this, and many, many more, then join Men.com. Men.com is a famous network that has over 2,600 movies to show now, and they add new content every day.