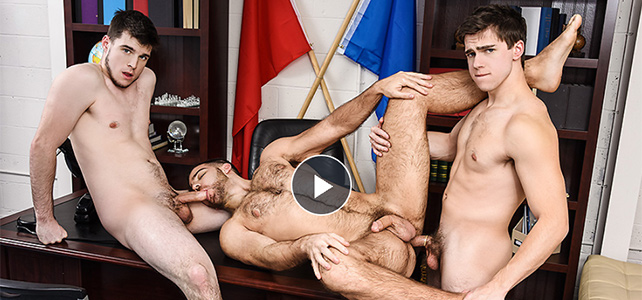 Textual Relations Part 3 stars Jackson Grant and two all exclusive stars to Men.com, Will Braun and Noah Jones. This hardcore gay men porn video has been posted online by gaypornstarstube.xxx and released by 'Drill My Hole.'
Drill My Hole is just one of ten sites in the Men.com network, and some of the others are: Back To School, The Gay Office, Jizz Orgy and Super Gay Hero. Men.com have over 2,300 hot and horny gay videos for us all to watch, and they update on a daily basis.

The Gay Men Porn Stars
Jackson Grant is a good-looking guy with scruff around his handsome face and hair all over his defined body. He is a five-foot-ten-inch hunk with dark brown hair, emerald green eyes and he is versatile with a seven and a half inch cut cock. Jackson has starred in six movies for Men.com so far. Follow him on twitter here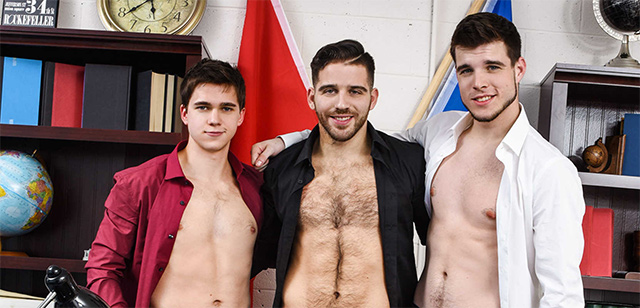 Noah Jones is an all exclusive star to Men.com, and he looks like he could easily have been the star soccer player at college. He is five feet eleven inches tall, has brown hair, beautiful blue eyes, and he is a top with a seven and a half inch cut dick, and a lovely set of balls tucked neatly under his thick juicy cock.



Noah has starred in 11 movies for Men.com, and about 50,000 horny guys watched him fuck William Seed from http://www.williamseed.com/ in 'Does This Make Me Look Gay?' back in April 2015.
Will Braun is an all exclusive star to the best gay porn stars website, and he has starred in 75 hardcore gay movies for them so far. He has a sweet innocent almost nerdy college look about him, but still very sexy, and very horny all day long. Will is five-foot-six-inches tall, has brown hair, sexy blue eyes, and he is versatile with a seven-inch cock.
Will starred alongside Johnny Rapid and Adam Bryant in the controversial gay porn movie 'Fuckmon Go: A Gay XXX Parody.' And this caused a bit of a stir in a couple of newspapers.
FREE gaypornstars movie
Will Braun and Noah Jones still haven't got the proof they need to bust Jackson Grant. Will only managed to get a photo of his dick last time after he got his ass well and truly fucked by him. They are thinking about giving up on the whole idea when Jackson texts both Will and Noah telling them he wants to see them both. Will is more than happy to go along with it and takes Noah along with him this time, and this time, Will is hoping to get a photo of Jackson getting his ass drilled by Noah.



As soon as Noah goes into Jackson's office, he strips naked in front of Jackson, and Jackson is so eager for a hard cock that he gets straight down on his knees and begins to suck on Noah's rock hard cock. Jackson hears a noise at the door, and as he quickly jumps up, Will walks in.
Seeing them both naked, Will gets his clothes off, and he first sucks on Noah's cock with Jackson's help, then he gets on his knees as he takes it in turns sucking them both off.



Jackson, who has been gagging for a cock up his ass all morning, bends over his desk. As his ass opens up for Noah as he rams it straight up into that vice like hole, Will gets in front of him and makes him suck his dick.
It soon starts off a wild fuckathon as Will fucks Jackson's ass, and then as he sits on Noah Jones' dick, Jackson Grant sucks his dick until Will Braun can't take it anymore.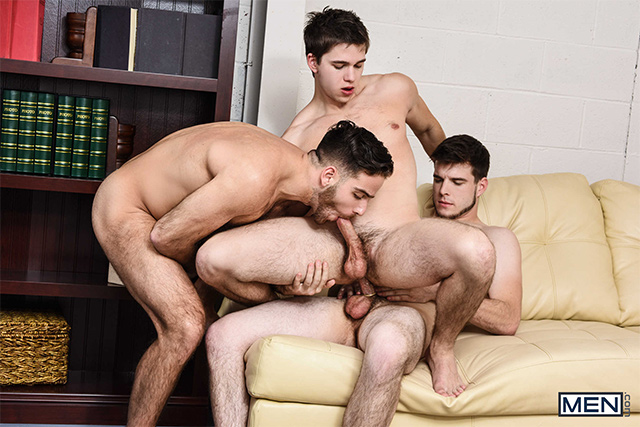 Will sits down on the couch as he jerks himself off, both Noah and Jackson shoot their hot creamy cum all over Will, and Will fires off his cum over his already drenched smooth young body.
At the very end, Jackson is still naked and sweating, he closes his eyes, and Will takes his chance as he photographs Jackson and himself naked together. As they get up, Will quits his job, and they a bewildered Jackson sitting up on the couch all by himself.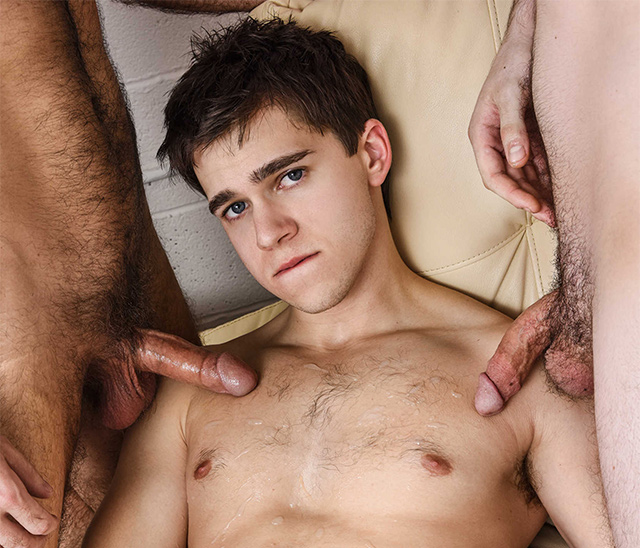 The Textual Relations has been a wild ride, and if you want to see more gay male porno movies then join Men.com, you get to see the whole movie, and as they update every day, you will never run out of things to watch and to jerk off to.