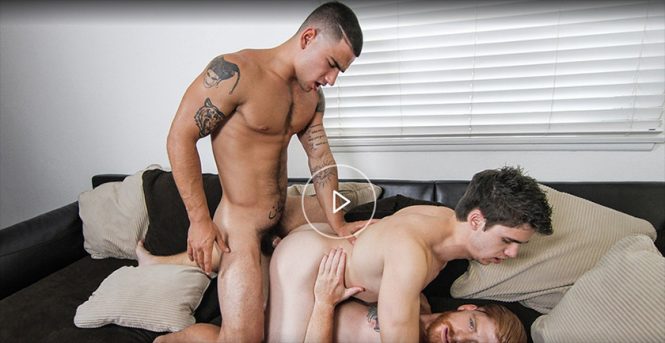 'Drill My hole' have got a hot and horny threesome hardcore flick, made by Men.com, for us all to jerk off to. It stars Bennett Anthony, Vadim Black and (exclusive to Men.com) Will Braun.
Bennett Anthony wakes up in a great mood as he lays next to Vadim Black in bed. Whilst having sex with Vadim the night before, Vadim shouted out in the throws of passion that he loved him.
Bennett reminds him about it but Vadim can't remember saying it. This doesn't put Bennett off, and he tells Vadim to stay where he is whilst he goes to the shop to by eggs so that he can make breakfast for him.
With Bennett out of the house, Vadim quickly gets dressed to make his escape, but he can't find his keys.
Will Braun comes into the room holding Vadim's keys. Vadim asks for the keys back, but Will drops them on the couch, and much to Vadim's surprise, Will puts his hand down Vadim's pants and feels up his cock.
Vadim smiles as Will crouches down, pulls down his pants, and with Vadim still standing up, Will sucks on his rock hard erection.
Vadim thrusts his hips forward forcing his gay cock all the way down the back of Will's slutty throat.
The front door opens and as Bennett takes in the scene, he drops the eggs on the floor and they smash.
He shouts at Will and Vadim at first, but is quickly persuaded to join in and before he really knows what is happening, Will has got his cock out and takes it in turns to suck on Bennett's cock first, and then Vadim's.
Will is made to stand up and gets bent over a chair with just his pants on. Vadim shoves the pants to one side showing off most of Will's firm butt cheeks.
Vadim and Bennett smack his tight ass a few times and then Vadim slides his cock all the way in Will's tight crack all the way up to his ball sack.
These gay models knows how to fuck
Bennett stands next to them stroking on his ginger cock as he watches Vadim slamming his cock deep and hard into Will's asshole.
The men sweat and pant as they move positions as Bennett sits down. While Will climbs on board his pulsating cock.
As the camera zooms in we get a great shot of Will's ass being impaled on Bennett's cock and riding it up and down like there is no tomorrow.
Vadim Black gets more excited as he watches the two of them fucking until he knows he can't hold back any longer.
As he stands above Will Braun, Vadim's cock jerks in his hand and shoots his thick creamy cum over Will's fucked ass and back.
Bennett Anthony quickly follows him and then with a final cry of pleasure, Will sends his hot cum all over Bennett's tattooed and muscled chest.
Some of the best gay pornstars at MEN
Bennett Anthony looks striking with his bright red hair and multi coloured tattoos over his muscular body. Bennett has starred in thirty six movies for Men.com and was even an exclusive star at one point.
Bennett is the main stud in a great hardcore series called 'Happy Chance' where he is in every episode and fucks a couple of super tight assholes, and he gets his fucked too. He is a versatile man and has a seven inch ginger cock which has been circumcised.
Vadim Black is a Russian God. He has a ripped smooth body with a few tattoos down his muscular arms. Vadim has starred in fourteen hardcore flicks for Men.com, which includes 'Son Of A preacher Man' wiht Dante Colle which ends up a mind boggling jizz orgy. Vadim is five feet seven inches tall, has jet black hair and emerald green eyes. He is versatile, has a six and a half inch cut cock, and he is straight, which makes him even more exciting.
Will Braun is an exclusive star to Men.com and has been in thirty six hardcore movies with them since he first started a year ago in February 2015. Will is cute and young with a college-guy appeal about him. He is versatile and has a seven inch cut cock, he has brown hair, blue eyes, and is five feet six inches tall.