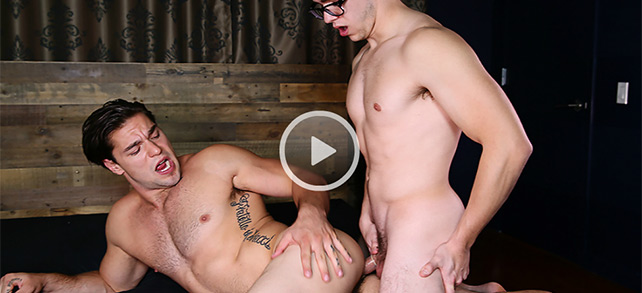 'Str8 To Gay' Shows you how to handle having a crush on your best friend's boyfriend. This hardcore flick is made by Men.com, an award winning site which films fantasy after fantasy with high quality pictures and sound, and the best men in the business. This awesome movie stars Will Braun and Aspen.
Will Braun is exclusive to Men.com, and it's not hard to see why. He is a natural in front of the camera and looks like one of those cute college boys you just want to bend over and fuck. He is versatile, with a lean smooth body and a seven inch dick. He has brown hair, sexy blue eyes and is five foot six inches tall and weighs 150 pounds. Will has been in twelve movies for Men.com so far and his last flick was 'Swipe Part 1', which also starred Dimitri Kane. Will is from Houston Texas and already has 12k followers on Twitter.
This is Aspen's first hardcore movie with Men.com, but he is a known porn star. He has a fantastic body with a bit of hair on his muscular body and has a few tattoos. He is a versatile top with an eight and a half inch cut dick. He has black hair, brown (come to bed) eyes, is five foot eight inches tall and weighs 186 pounds. He is easy going and loves socializing, so you never know your luck if you see him out and about.
This exciting flick starts off with Will Braun on the phone to his best friend. He is telling her to try a strap-on on her boyfriend, she isn't too sure, but Will convinces her that straight men love having their prostates banged; they just don't like to admit it.
The next scene shows Will holding a dildo in his hand, when his best friend's boyfriend, Aspen, walks in. He sees what he is holding and asks Will where he got it from. Will has always fancied Aspen and he asks Aspen, in a slightly excited voice, if his girlfriend had ever used one on him. Aspen tries to stay quiet about it but eventually admits that it was so awesome he managed to break it. Will suggests that Aspen try someone else who knows how to really use a strap on, a dildo in this case. Aspen's cock is already hard so agrees to it almost straight away, and quickly strips his clothes off and gets on his knees.
Will passes the lube to Aspen who rubs it all over the dildo and leans over, putting his weight onto his hands. His ass looks fantastic and open as Will slips the dildo in, inch by inch. Aspen gives in to the pleasure as he feels the dildo fucking his tight crack. He can't help but stroke his smooth ball sack at the same time as his face is stuffed into the mattress and his ass high up in the air.
Aspen turns over and spreads his legs as Will gets in-between them. As he sucks on Aspen's rock hard cock, he carries on fucking his ass with the dildo. Sweat drips off their bodies as they suck on each other's cocks at the same time. The room fills with the sounds of them grunting and groaning in ecstasy.
Aspen gets back on his hands and knees and Will plunges his dick straight up into his slippery wet hole and fucks him doggy style. Their sounds of pleasure keep building up, getting louder and louder by the second.
Will Braun flips Aspen over again and fucks his ass in the missionary position. Aspen can't take any more of his prostate being banged and his cum spurts out of the end of his cock, all over his firm hard stomach. Will quickly goes up to Aspen's chest and lets his cum spray all over him.
Aspen lies there with their warm cum dribbling down his body, he has loved it, and as he laughs, he asks Will not to tell his girlfriend.