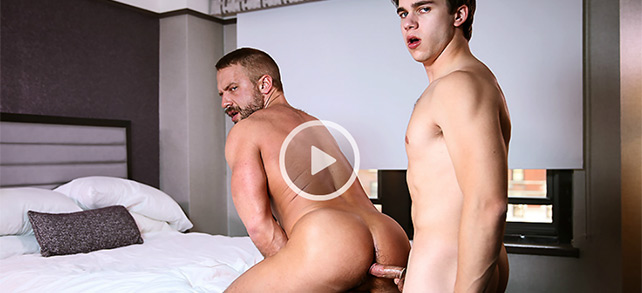 'Drill My Hole' love showing you some of the best fantasies around made by Drill My Hole, and this time you could say they have gone a bit Greek in New York. I say Greek because 'Big Bro' is all about having a mentor where a younger man is forced to live with an older man to show him how to behave. All the Greek stories from history tell us this was a popular thing in days gone by, and maybe even in some parts of Greece today, where an older man shows a young man how to do everything in the world, including sex. He shows a younger man how to fuck, suck, and how to enjoy the body of another male, and how to turn another man on.

This hardcore episode stars Will Braun as the young out of control youth, and Dirk Caber is his hairy big bro, his father figure, there to help sort him out, to guide him, to nourish him in every aspect of his life.
Will Braun is a thief in New York. He has to be. He has had a bad upbringing and has to survive on his own. One day he snatches a bag from someone and is caught; the police pick him up. He is ordered by the court to be looked after by a company called Big Bro; the judge thought Will had never had a strong male companion in his life so he sent him to be looked after by Dirk Caber. Will found it hard to begin with but soon accepted it, even enjoying Dirk's company.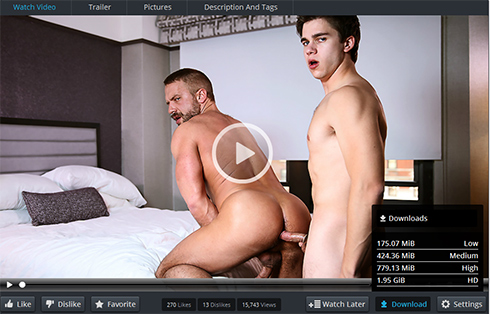 Dirk turns up at Will Braun's apartment one day and suggests to Will that even though he finds it hard to open up, that maybe it's time he did. Will's not too sure and is quite surprised when Dirk says that he is really into opening up and quickly leans forward and kisses Will full on the lips. He tells Will he is still his mentor, and that he still has tonnes of things to teach him.
Dirk pushes Will back on his bed and quickly pulls his pants down. Will already has a hard-on which makes Dirk smile. He grabs will's shaft in his hand and takes his cock into his mouth and starts sucking it up and down. Will agrees that it feels good and wants more. Dirk teaches him what it's like to have your dick, and ball sack, licked and sucked by another man. Will groans as Dirk grabs a tight hold of his balls and rubs his beard up and down the length of his cock. Will is in heaven and Dirk pulls the rest of his clothes off and moves up Will's toned body kissing, and biting on his small dark nipples.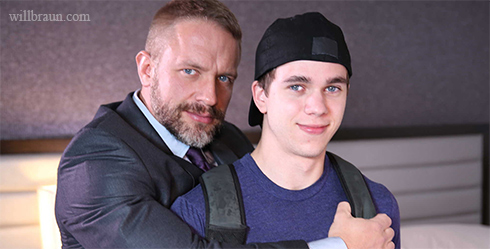 Will stands up as Dirk lies on the bed stroking his leaking cock, pre-cum leaks out of his cock in his excitement as he gets Will to face-fuck him. Dirk jumped up and gets on his hands and knees and tells Will to open his asshole up and lick the rim of his entrance. He takes him through every single thing step by step. Will is told to put his finger in slowly, he moans with pleasure and then tells him to do it a bit more aggressively. Dirk growls out and more pre-cum escapes from his throbbing cock, he asks Will if he wants to fuck his ass. Will doesn't need telling twice, he gets behind him and plunges his cock into his very first male ass and loves the feeling of his tight ass wrapped around his hard dick.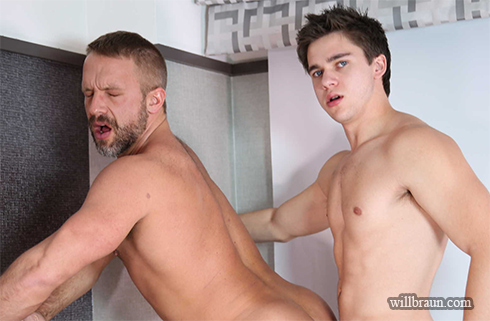 Dirk gets Will to ride his ass in all sorts of positions around the room eventually fucking him in the missionary position. Dirk Caber can't take anymore and shoots thick white cum over his muscular body as Will still drives his cock in and out of him. Will Braun moves up to Dirk's face and spurts thick wads of his own cum over Dirk's beard and open mouth.
Will Braun is exclusive to
Drill My Hole
and is one of the newest and hottest stars in the market today. He is a versatile young man with a smooth body and a seven inch cut dick. He is five foot six inches tall with brown hair and sea blue eyes, every daddy's dream
Dirk Caber is a mature hairy bear who just loves smooth young men. He is versatile with seven inch cut cock and a tight hairy asshole. He is five foot nine inches tall with blonde hair and gentle and kind blue eyes, the perfect daddy. These two hot stars were meant to be together.