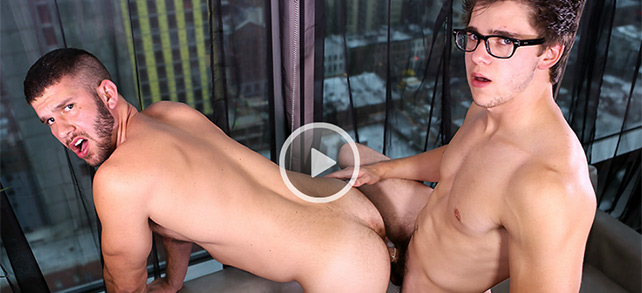 'Drill My Hole' are proud and excited to show off the latest new exclusive male model from Men.com. His name is Will Braun and he was born in 1991, and his star sign is Cancer. In this, his first video for Men.com, he is broken in by handsome Jimmy Fanz.

Jimmy Fanz has been specially flown in to make this hardcore video, and for those of you who don't know this young man, shame on you, as he is another exclusive hottie for Men.com. Jimmy has brown hair with matching brown eyes and always likes to keep stubble around his chin. He is five foot eleven and has a six inch cut cock. He is a versatile bottom which is good in this industry as everyone wants a piece of him. He has been in twenty two flicks with Men.com so far, these include 'Discharged', where he bends over and gets fucked by another favorite exclusive, Colby Jansen. This has been seen by over 70,000 different men – an amazing amount. Another flick he is in is called 'My Brother In Law', starring Tyr Alexander and this has also been seen by over 70,000 men. Being such a willing and eager bottom, Jimmy Fanz is the right person to break in the new boy.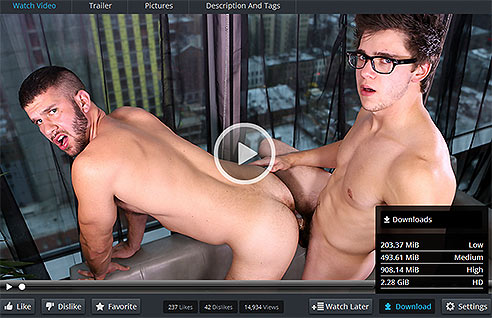 This video starts off in quick-speed as the production team hurry around the hotel room getting it ready for filming. There is a knock at the door, and Jimmy Fanz walks in, shaking hands with the director. He walks into a room and there is a hardcore porno playing on the television. He recognizes it. It's his ass getting a wet tongue darting in and out of it. It is from the last film he has made. He is told to get ready and prepare himself for the new guy. Eager with anticipation, Jimmy gets ready.
The picture changes and we get to see Will Braun for the first time. He is sitting down waiting, nervously, to be interviewed before his first big scene. He has slightly shaggy brown hair and sparkling blue eyes which are slightly covered up with a pair of designer glasses. He is five foot six inches and weighs 150 pounds. He is no muscle Mary but still has a great firm body with a seven inch cut dick. He is versatile, so with his youthful college looks and great body he will go along away. He has never heard of Jimmy Fanz before but is looking forward to fucking him doggy style, his favorite position.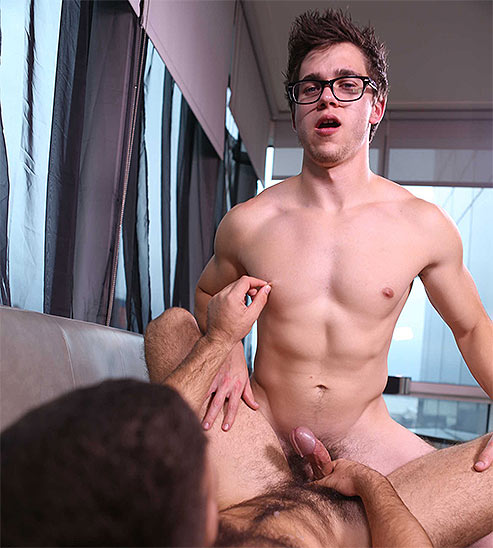 This is a great insight into how the industry works and what goes on behind the scenes. Jimmy and Will Braun meet for the first time and Jimmy asks him what are the sort of things he likes – so that he can get him excited. Will tells him: kissing and nipples are good. Jimmy then shows him around, and then takes him on set. They are now ready to go (after they have gone through a quick run of what they are about to do).
The film starts for real and Jimmy Fanz and Will Braun are standing, kissing in front of a big window, wearing only their tight underpants. Jimmy goes down between Will's legs and starts to suck on his hard cock. Will smiles down to him and pushes his cock to the back of Jimmy's hungry throat.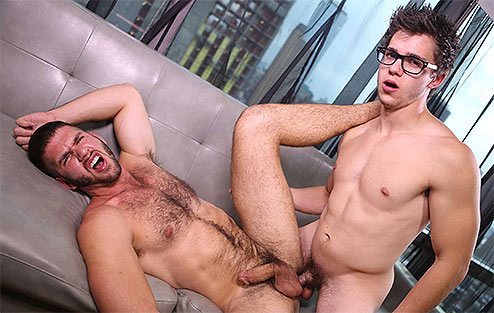 Jimmy then sits on top of the back of the couch, and Will gets to suck on his first cock in front of the camera. He does it with style; it's hard to believe this is his first time. He gets Jimmy so excited that Jimmy turns around; he wants that mouth on his ass. Will pokes his tongue in and out of his hairy crack, and then teases him with his fingers. Jimmy is panting for more, and is relieved when Will gets behind him and starts fucking him doggy style.
Jimmy Fanz gets on his back and shoots his hot cum as Will fucks him in the missionary position. Will sits astride him, on his wet cock. He pumps his own cock up and down and sends his spunk flying all over Jimmy Fanz's hot hairy body.
Will Braun then heads off for what is going to be the first of many long showers.