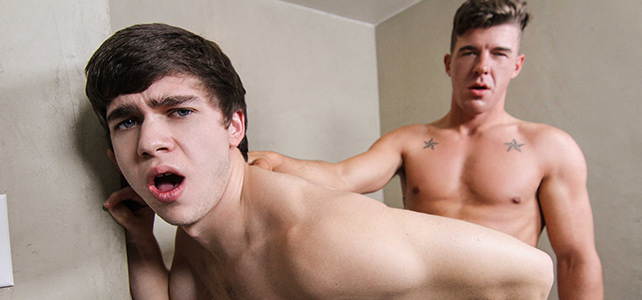 Dad's Diary Part 3 is another great episode in this popular hardcore series that has been filmed by Men and it was released on April 30th 2016 by Drill My Hole. This is a great gay porn fantasy starring all exclusive stars Will Braun and super cool JJ Knight.

Dad's Diary starts off with Will Braun Jr reading his dad's diary outside. He is shocked about what he reads as he learns that his dad, Will Braun Snr had had the best sex he had ever had on his wedding day. But, it wasn't with his new bride. It turns out that Will had had sex with his wife's big dicked cousin JJ Knight, who had just come back from Vietnam. Will Braun Jr phones up his dad and leaves a message telling him that he needs to see him, and he burns his dad's diary.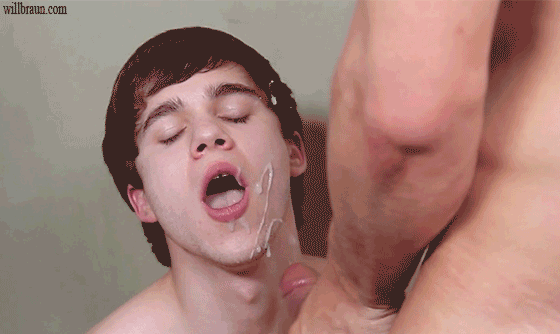 The next scene sees his dad; Will Braun as a young dude on his wedding day. It is a great flashback in which Will is in the bathroom pacing up and down in his wedding suit looking very nervous. JJ Knight, who is a six-foot-two-inch hunk walks into the bathroom to talk to talk to him. He has heard that Will doesn't really want to marry his cousin and that he actually wants something else. Will looks startled and doesn't know what JJ means. JJ takes things into his own hands as he takes off Will's tie and starts unbuttoning his shirt. Will tries to tell him that he is straight, but that doesn't stop JJ who already has a hard boner in his pants.
Will is still in a state of shock mixed with arousal as JJ pulls his pants down, and gets his cock into his eager mouth. Will can't believe how good it feels to have another man's mouth sucking on his cock, and soon gets into it as he pushes JJ's head onto his dick. His eyes glaze over, and as his cock gets deep throated, Will moans out so loud that anybody on the other side of the door will hear what's going on.
On seeing JJ stroking his huge cock, Will's mouth starts to salivate. JJ stands up, and the virgin Will is straight down trying to get all eight and a half inches into his mouth. His hand can hardly fit around it, but he ends up giving JJ one of the best blowjobs he has ever had.
JJ sits on the edge of the bath as Will lies with his back on the ground. JJ pulls Will's legs up to his waist, and with one huge thrust, he rams his thick juicy cock right up Will's tight butt hole. Will shouts out with pure pleasure as JJ fucks him hard and fast on the bathroom floor.
They go wild with extreme excitement as they fuck all over the bathroom until JJ Knight is about to bust a nut. He gets Will Braun on his knees in front of him, and as he jerks off, he shoots a whole load of thick creamy cum all over Will's cute young face. After cumming, JJ rubs his cock all over Will's mouth and over his tongue. Will licks the last bit of cum off of his dick and then cums himself over the bathroom floor.
Information about the hot gay men fucking
Will Braun is a five foot six cute young guy, and he is an all exclusive star to Men. He has brown hair, beautiful blue eyes, and he is versatile with a seven-inch cut cock.
Will Has starred in 75 hot gay porn movies for Men.com, and in his newest movie 'After The Hibernation' Will gets his sexy ass drilled by Brad Banks.
JJ Knight is a gorgeous young man who wouldn't look out of place in any American TV show. He has the looks, and plenty of style to fit in anywhere. JJ Is six foot two inches tall, has a lovely smooth hard body, light brown hair, brown eyes, and he is a top with a thick and juicy eight and a half inch cut cock.
JJ has been in nine gay man sex videos for Men, and in his first movie for them, he fucked the ass off of Tommy Regan in 'Trust Me It's Not Gay.'
This episode of Dad's Diary has already been seen by over 18,000 horny guys. It is a great hot fantasy, and the facial cum shot at the end is worth a wank in just that one scene. I felt like I wanted to be there as a third party so I could lick all of that beautiful man cum off of Will's face. It seemed such a waste not to.