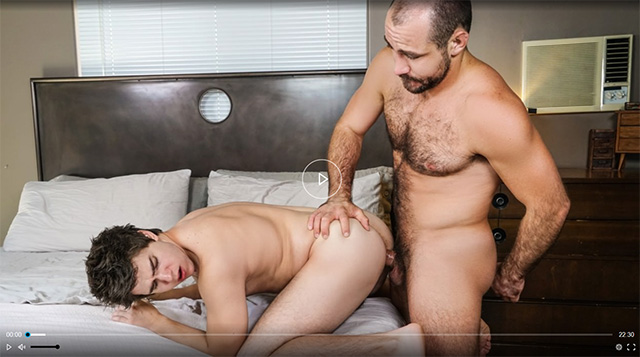 This hardcore gay vid stars smooth guy, Will Braun, and Ashland who is hairy all over. It has been filmed by Men.com and has been released by Str8 To Gay, which is just one of the many sites within this award-winning network.
Will Braun men.com
Will Braun is an attractive smooth guy with a juicy ass, and he has that next-door neighbor look rather than that of your usual pornstar. He is cute and can be a bit of a nerd, but one thing he really likes is sex every day, and at every hour of the day.
He is five feet six inches tall with brown hair, sexy blue eyes, and he is versatile with seven-inch cut dick.
He is a popular star in Men, and he has starred in 112 videos for the network so far. In his next movie, he pounds the ass off of Kip Johnson in 'Accidental Pickup.'
Ashland
To be honest, this is Ashland's first movie with Men, and there is not a lot of information about him. All I can tell you is that he has an amazing hairy body, scruff around his cute face and seductive eyes. He also has a huge fat cock and a nice set of balls between his legs. Anyway, watch him in action and make up your own mind. Personally, I think he will fit in well at Men.com.
Gay video from men.com
Will Braun sneaks into a house and starts looking through a tiny bag when Ashland walks in. He grabs Will by the neck, pushes him against the wall and asks him what he is doing in his house. Will explains that he is friends with his stepson, and Ashland sees the tiny bag.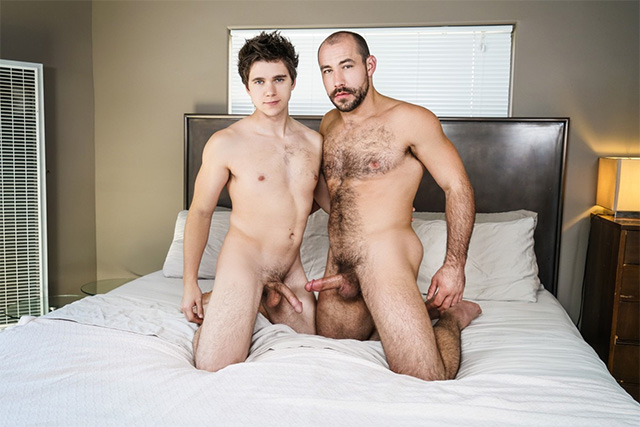 He starts looking through it and finds out it is a puzzle and starts putting it together. The puzzle ends up being a photo of Will Naked, and Ashland gets a hard-on looking at that juicy fat cock.
He grabs Will between his legs, kisses him hard on his lips and tells him he wants to see that boner for real. They go into the bedroom where Will quickly gets naked and sits on the edge of the bed. Ashland gets his hands on the seven-inch cut dick and takes the whole lot in his mouth as he sucks that shaft all the way down to his balls.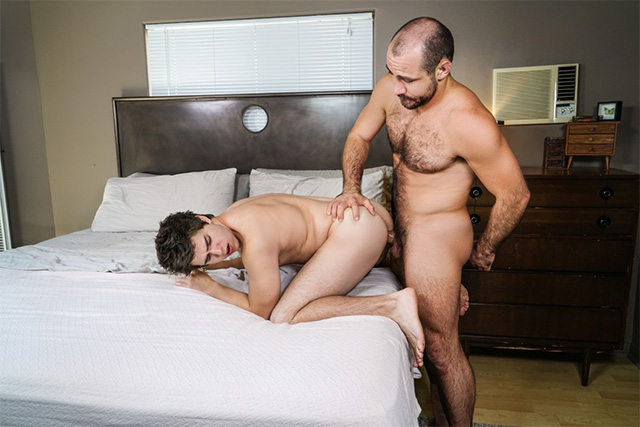 Braun moans with pleasure and soon returns the favor as Ashland gets his meaty fat cock out of his pants. Will sucks and slurps on that juicy daddy dick, and inch by inch, he manages to take it down to the back of his throat.
Will Braun rolls onto his hands and knees and moans out loud as he feels Ashland's huge shaft sinking deep into his tight asshole. The moaning and groaning don't stop, and Ashland fucks him harder and harder with each thrust of his hips.
Ashland keeps on fucking Will, and as they fuck in the missionary position, he cums over Will's thighs, balls and cock. Will uses that cum as lube and his dick soon throbs, and his fresh, hot cum shoots out, and his thick creamy load pours over his athletic body.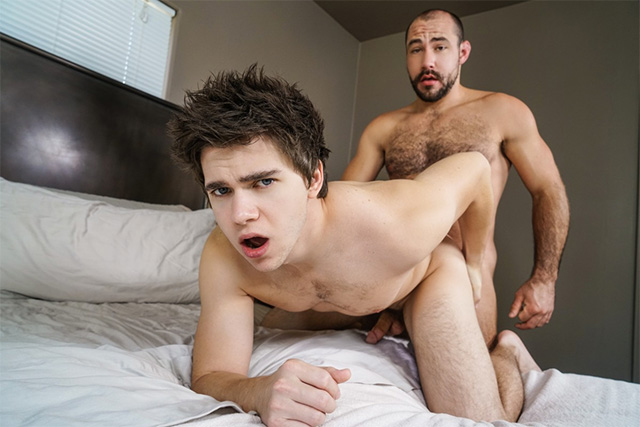 This is a real hot daddy/college boy vid, and Will's cum is so thick that you will wish you were there to lick it all up, just like Ashland does at the very end. For more movies like this, just join Men.com where they update daily across the network. They also have 960 pornstars in almost 3,000 videos.