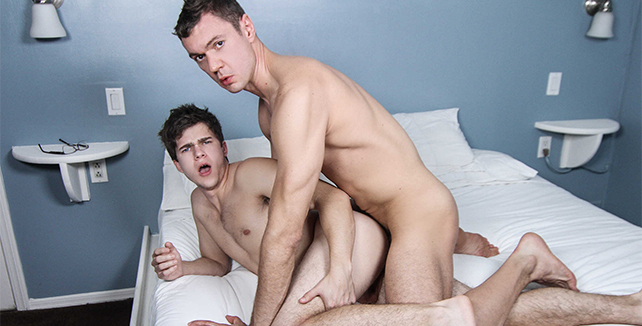 Sidewalk Pickup was released in November 2016 by Drill My Hole, and was filmed by the award winning team at Men.com. This hardcore gay porn movie stars all exclusive star to Men.com Will Braun, and newcomer to Men, Brandon Blake.
The Stars
Brandon Blake has been in gay porn movies for a couple of years now, but this is his first hardcore movie with Men. In the past, he has been in movies for Raw Fuck Boys, Naked Kombat, Men On Edge and a couple of more well-known gay sites.
He is six foot two inches tall, has dark brown hair and a lovely smooth body. He has Brown eyes, and he is versatile with a seven-inch cut dick and a lovely juicy, heavy ball bag.

Will Braun has been an all exclusive star for this adult gay website since February 2015 and has been in 74 hardcore movies for them so far. These include movies such as: '
Stag Hag
' where he is in a great threesome with Tom Faulk and Mike De Marko, 'Strap On' With Aspen, and 'The Cult' parts 1 and 3' which ends up in a fantastic Jizz Orgy with Addison Graham, Brandon Moore, Colby Keller and Roman Todd.
The Movie
Brandon Blake is out for a walk and is taken by Will Braun's college boy looks as he sees him sitting down on the sidewalk. Will looks up at him with his sexy blue eyes and smiles sweetly as Brandon asks him for sex. Will tells him $30.00, and they go off together back to Brandon's apartment.



They get naked straight away, and as Will stands by the bed, Brandon lies on top of it with his ass on show and starts sucking on Will's juicy cock. Will is soon moaning and groaning with lust, and Brandon deep throats his cock. The camera gets in close, and we see Will's cock disappear all the way into Brandon's cock sucking lips until his pubes are nestled over Brandon's nose. Will grabs the back of Brandon's head as he starts to face fuck him, and as Brandon gets more and more excited, he tells Will to fuck him.
Brandon rolls over onto his back and Will rolls on a condom as he watches Brandon lifting his legs up and opening them so that Will can get easy access to his eager butt hole. Will looks down into Brandon's eyes, smiles sweetly again, and thrusts his hips forward as his cock slides all the way in. Brandon groans out deeply with excitement as Will slides his cock back out, and then drives it back in time and time again.

Brandon's cock needs some attention, so he sits up on the bed, and Will goes down on his cock and gives him an amazing blowjob. Brandon can feel his cock beginning to throb, and before he shoots his load too soon, he gets Will Braun to fuck him again. Brandon gets on all fours, and as Will fucks him doggy style, he strokes on his seven-inch cock until he feels his heavy balls tightening up. Brandon Blake gets back onto his back as both he and Will Jerk off, Will is the first one to shoot his thick creamy cum all over Brandon's sweating body. As Brandon feels that hot cum splatter over his body, he shouts out one last time, and his cum shoots out and mixes in with Will Braun's.
There isn't much of a story in Sidewalk Pickup, but it does get into the hardcore gay sex almost straight away, which I must admit, that is what I love to see. If I wanted a story, I would pick up a book instead, but that's just me. This is a movie by Men who are one of the leaders in gay porn making in the gay porn world today.
Men dot com have won award after award, and they show only the best porn at high definition with some of the best porn stars around such as Johnny Rapid, Diego Sans, Paddy O'Brian and Dennis West. Men.com have ten sites, and just a few of them are: Drill My Hole, Jizz Orgy, Top To Bottom and Super Gay Hero. They add a movie every single day. Sign up, and you will never get bored with this network, or any of the guys who are waiting for you to watch them fucking hard.